Show Stats
Various stats for the show:
14k
Avg. listens per month
543,320
Total unique listens
Our download reports are third-party certified by the IAB through Libsyn (our podcast hosting service). Learn about the difference between downloads and IAB certified downloads here.
Global reach of listeners, per geographical region:
Our Listen Notes values can be found below: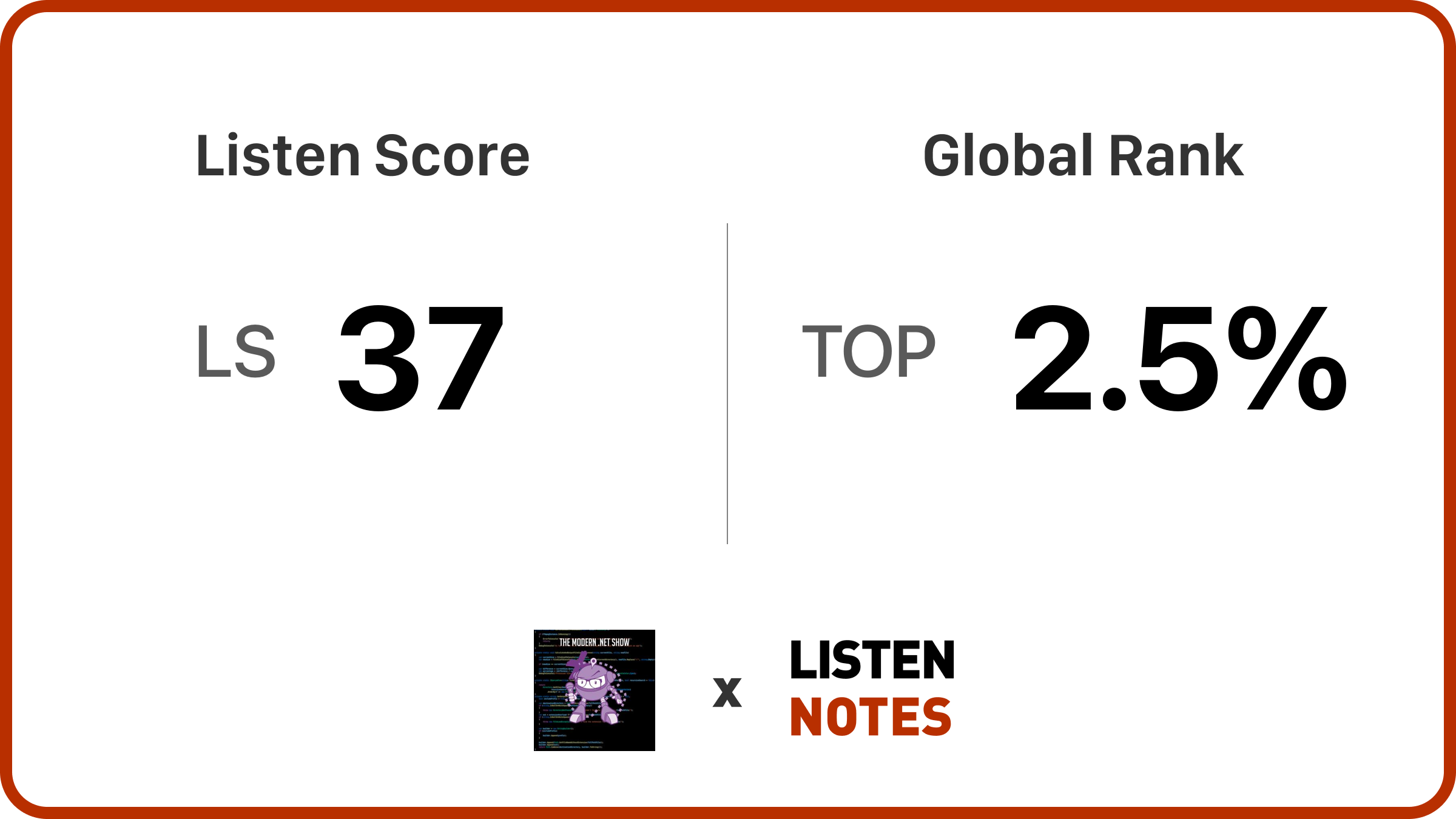 Listen Notes describes Listen Score (LS) as an estimated popularity of the podcast, on a scale of 0 to 100 - the higher the number, the more popular a show is. Global Rank is described as how popular the show is compared to the other ~3 million public podcasts, globally.
You can find out more about how Listen Score is calculated here.
About The Show
The .NET Core Podcast is the only podcast devoted to Microsoft's .NET technologies, spreading knowledge on what you can build with it, and what the community are building. This podcast is created by Jamie Taylor with contributions from developers in the .NET community.
About the Host
Jamie is a Microsoft MVP for Developer Technologies (so he really knows his stuff), software engineer, mentor, and keen podcaster with over 14 years of experience working with ASP.NET.
His primary focus is on his family and children, who he draws inspiration from each day. With a background in teaching, Jamie focuses his energies on mentoring, writing super quality code, and sharing his knowledge with everyone who will listen.
He started tinkering with computers when he was 6 years old - he has written about this experience over at the Waffling Taylors. He has been building applications, games, and websites ever since. He likes to experiment with technologies at the bleeding edge - something he showed off when he gave talks on Blazor during it's public preview.
A life long learner, he has tried his hand at C# (his language of choice), low level C, Python, Node, and TypeScript.
He plays bass guitar, and speaks Japanese
Jamie's responsibilities with regards to the podcast are:
Hosting
Production
Post-production
Promotion
It was created in order to help spread knowledge about Microsoft's .NET technologies via interviews with developers and maintainers of applications and systems created with those technologies.
.NET is a large set of technologies which are designed to allow developers to create applications and services in both the C# (read: "See Sharp") and F# (read: "Eff Sharp") programming languages. It can be used to create application types including, but not limited to:
Desktop applications
Microservices
Web-based applications
Mobile applications
All of the .NET technologies are varied and simple to pick up, but can be difficult to master. Because of this, Jamie wanted to reach out to his developer friends and prominent members of the community in order to have them explain what they are building and maintaining with those technologies, and what they are.
Guests are challenged to explain the technologies and how they have used them in order to build and maintain the applications and services that they have create with them.
About The Audience
The podcast is aimed at developers at all stages of their career and Tech Leads who are looking to learn more about what the different .NET technologies are, and what they can be used to create.
Although the podcast is aimed at developers and other tech workers, it is approachable by learners or listeners who are new to development or Microsoft technologies. Each technology is introduced via examples of the applications and system that have been built with those technologies.
The majority of episode downloads are from US-based IP addresses (25%), with the UK (15%) and Canada (7%) being the next two countries.
The audience is developers, software architects, or development managers - based on a survey of a subset of listeners, and direct feedback that we receive via Twitter and Slack group. The slack group's members are fans of the show and a small number of previous guests, and the shows twitter account (@dotnetcoreshow) has 2,734 followers and the majority of the followers identify as ".NET Developer" (or similar) in their twitter bios.
The majority of subscribers to the show are looking to find out more information on all .NET related technologies, not just specifically .NET Core. Again, based on the respondents to a listener survey.
Example Audio
And the following is an embedded player for the latest episode of the podcast:
Example Video
Each episode is automatically uploaded to YouTube as well as the RSS feed, meaning that listeners can "watch" the episodes. At the time of writing, the video portion is a still image (see the images section below for examples). The following is an embedded player for the latest episode of the podcast on YouTube:
A number of episodes also have teaser videos which are posted to Twitter and LinkedIn (see the Show Links section for links to those) up to a week before the episode is due to be released. The following is an example of a teaser video:
Podcast Schedule
Season 1 started on August 24th, 2018
Season 2 started on September 6th, 2019
Season 3 started on September 4th, 2020
Season 4 started on September 10th, 2021
New episodes are released on a fortnightly basis, on Friday mornings at 08:00 (UK time). All episodes are released to Apple Podcasts (formerly iTunes), Google Podcasts, Spotify, Podchaser, and almost any podcast app. The podcast can also be consumed directly via the RSS feed, allowing for the use of RSS feed readers.
Transriptions, for both the hearing impaired and community members who prefer to search episode content, are provided in the shows notes for each episode. Episode level show notes can be found at the podcast website.
Funding
The .NET Core Podcast is free to access and consume, as it is funded by the host. Community members can support the production of the show via Patreon and Buy Me a Coffee. Patreon supporters can consume episodes early, suggest topics, and participate in Ask-Me-Anything style questions and answer sessions with the host.
Reviews of the Show
Podchaser Reviews
This is a great show and very, very enjoyable. Besides the excellent choice of guests and topics, most remarkable is Jamie's (the host) ability to show his genuine curiosity about his interview partners and what they have to say. It's very contagious. I've listened to topics that won't cross my mind, and I don't regret it. He has done a great job, and it is my to be a Patreon.
Thanks for this amazing podcast.
Ton of information from a host that truly loves the subject.
Both the longer interview style episodes, as well as the shorter "here's a thing you may not know about"/"feature overview" episodes are great! .net core being an emerging technology, it's nice having a podcast dedicated to it :)
Love this show, fantastic content and the host is thorough and entertaining. 5 Thumbs up!

…errr, 2 - I suppose. I only have 2 thumbs to put up. Sorry for the waffle!
Apple Podcasts Reviews
"Great"
Been a developer for twenty years the stackoverflow chat was very insightful being from the U.K. myself had no idea most their team was based here loved the conversation be safe everyone.
"Good listen"
I have been listening since I hear it was coming out on the Coding Blocks podcast. It always has great content and interesting topics. You can tell Jamie geeks out about the content sometimes but I think it just draws you in more. Some of the information I learned on this podcast has made me an avid promoter of .net core and I have used it to convince my employer to let me write our new apps in .net core.
"The Best .NET Core Podcast out there!"
Okay, so the name is really a bit of a joke given this is THE .NET Core Podcast, but jokes aside, I love this podcast. The host really manages to get some good talks about topics I care to learn about. I'm hoping to dive deep enough into PowerShell Core to have enough talking points to get an interview myself cough. Give the show a listen, if you live in the .NET world, you'll absolutely enjoy it!
"If you do .net do yourself a favour and listen to this"
You might be busy with the day job. Writing WPF or supporting an ASP.NET app that hasn't needed to make the leap. You know the switch to .net core is coming. But when is it coming for you. This podcast is great to get your feet wet without getting into the weeds that frustrates so many of us that are busy. #recommended.
"Great Addition to the .net core community"
I am particulary enjoying this podcast! it's great to catch something in the early days. I'm sure this podcast is going to continue to grow!
"Short and excellent"
Loved all the episodes. Quality is great both content and audio. Very well presented with well known guests.
Show Links
Images
Podcast Cover Art
Site Logo
The above logo was created in collaboration with WhiteFish Creative.